The folks over at the Dill Pickle Club (now Know Your City) facilitated an animated, intimate, cozy and rich discussion of Portland's musical history. The first installment of their Northwest Passage series, dinner lectures examining the history of independent music in the NW, dispelled the myths that lectures are boring and has me on the edge of my seat for next month's commingling.
Portland is made up of transplants. People who don't have Portland's history. So it's a treat when the people who've crafted the city I can't leave share their stories.
URAL THOMAS.
The sweetest soul I've encountered in some time. (Only after looking at the poster again do I notice the title "A Life in Soul" which has me at last understanding how Soul music got its name.) It all started with a smile as we crossed each other on the rainy street. He was headed to the Waypost as I was headed down the street for a place to wait outside of the rain for the event space to open. People rarely look you in the eye and smile as authentically as this man does.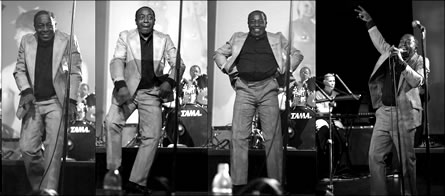 As Eric Isaacson, founder of esteemed Mississippi Studios interviews Thomas, I find myself thinking I can listen to these guys talk all night. Thomas plays some snippets of his songs from the 60s and 70s and gets the whole crowd grooving. It's rare that I'm able to participate in a group that includes old and young and black and white- something I've been complaining about to my friends for some time. Time starts bend, too. As Eric and Ural rap back and forth, a scene unfolds on the corner near NE Williams and Fremont, just outside the window. Ural's playing music a cappella with a gang of folk while kids start dancing in the street. The cops roll by, thinking they'll be bustin up a fight but it ain't no thing.
As they wrap up their conversation, Ural invites all of us strangers to his house on Sundays to continue the jam. Just take a stroll down the alley behind the Rebuilding Center and move to the beats. To do: check out Wheedles Groove – the story of Seattle's forgotten soul and funk scene of the 60's and 70's.
JOE KREGAL.
Joe's a fun kid and I want to put him in a room with my grandpa John and listen to those conversations and watch them dance with their ladies. Something about his cute smile, floppy ears and knobby nose has me instantly hooked. He hops around between showing posters, talking about the ballrooms that used to be outside of town (like the Division Street Corral way out on 172nd and Division) and playing 45s. Who knew Portland's claim to fame during that time was "Louie Louie" and the Kingsmen? And I get a kick out of hearing about the Crystal Ballroom before its McMenamins incarnation, especially as Joe talks about being one of only 15 whities in a sea of thousands of people. Having lived in this highly segregated city for 10 years now, I'm intrigued and fascinated by the racial history that parallels this music history.
VALERIE BROWN.
Valerie places Portland's happenings in a broader context, referencing world events. "69 was a bad year…" Over at Jefferson High School (the one I live right next to!) they had their "Soul Assembly" where the students locked out all the white kids, except for one – Bobby Benson, younger brother of influential Portland musicians John and Jehn Benson, since he could play the drums so well. She wanted to be the next Joni Mitchell and guides us through a cultural shift from big bands and big venues to singer-songwriters, acid and coffee shops. More on her perspectives and findings @ Music on the Cusp: From Folk to Acid Rock in Portland Coffeehouses, 1967–1970.
As I've now taken a few days to write this up, the DPC has released more information on the next installment in this not-to-be-missed series. Check it out and save me a seat.