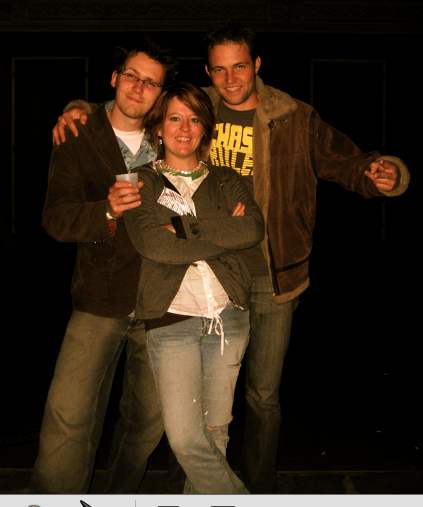 Nestled quietly a mere 9 meters, or 30 feet, from I-10 in a Texan rest stop, I reflect on my recent Louisiana love affair and replenish my body's hydration system. Currently, I'm en route to Austin Texas, where I hope to be one of 400 people to receive free tickets to a Yo La Tengo show on Tuesday. But I'm tired, so need to calculate how to both sleep and drive 5 hours in only 10 hours … and no, I'm not allowed to sleep while driving.
If only New Orleans wasn't such an awesome city, filled with fun and friendly people, delicious food and an abundance of liquor and festivals I wouldn't be in this predicament. Yes, another sign that life on the road can be challenging.
Let me go back to the beginning. As a highway ferry transports me across the Mississippi, I transfer my love of Mississippi into Louisiana. Spanish moss hangs from statuesque oaks, black cats roll on the ground, baiting me to pet them, at the #1 haunted mansion in the world and Jaik's mom welcomes me with the finest home cooked dinner I'll have all trip. (I need to take better notes since I'm not quick with French, but the dinner included lots of crawfish in both etouffee and pizza and a French cake with 7 layers of pudding diving a rich, white cake.)
I spend Saturday learning all things Cajun and some of the Creole, before heading to the Atchafalaya basin, towards New Orleans. In Breaux Bridge, locals point me to a meat market for some famous Boudin (pronounced BOO-dan). Though the owner doesn't want his picture taken, he packs a beer from his personal stash in the back, along with the purchased sausage and stuffed mushrooms in my cooler. And it continues to get better.
Once in NO, I manage to get the last dorm bed at the India House, the best hostel in the city and meet up with two fellow travelers I met back in Flagstaff. As we head for the French Quarter to check out the Friday night life, I text Hannah from Tucson. (She's a friend of a friend I just met and absolutely adore.) A few excited messages later and we're sitting in the bar Hannah used to work at, doing some shots with her best friend (in her honor of course) and making a positive first impression of the city.
The next day we set out for plantations and will have taken 10,000+ steps by the time we retire at 6am, including the time change. We all stay in the French Quarter and make a trip down Bourbon avenue: drunk people overflowing in the streets, each with beads, beers and fancy daiquiri to-go cups. We try the Texan sized mixed drinks and stand awestruck as a karaoke dj/performer dances MC Hammer style, complete with a standing flip. As we wind up our morning at the hotel, I learn Dutch while teaching Go Fish. Yep, I can really travel the world now with "give me", "do you have", numbers and face card names, "go fish" (my favorite!) and a swear word I cannot repeat.
Despite having to check out of our hotel only four hours after falling asleep, we find energy in Cafe du Monde's coffee and beignets. And I can't leave out the impressive troupe performing acrobatics and break dancing. Unfortunately, a lavish military performance for Extreme Home Makover across the street in front of the cathedral, forces a frustrated man with a megaphone to shut down the troupe. Apparently they can't hear their TV show host above the music and fanfare from our crowd. (I'll post a video, as the guys are phenomenal and I want Joe to learn these tricks. They walk up stairs on their hands, slide across the ground on their heads, break dance and make the grumpiest laugh.)
Lousiana is hard to leave. I want more days to tour the swamps, to walk the antique malls, eat Cajun and learn French. If I don't get this ticket I may just have to go back.