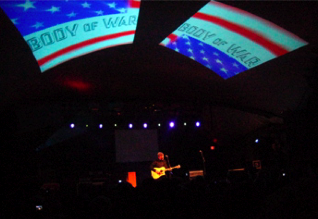 In what was *the* show at SXSW (pronounced "South By"), Tom Morello led a star studded symphony of musicians in support for a new documentary, out today in Austin, Body of War. Despite his work and dedication to the project, Eddie Vedder (the billed "special guest") wasn't able to make it out.
Personally, I've never been a big fan of Tom Morello, but he won me over last night with his charisma and fantastic arrangement of Woodie Guthrie's "This Land is Your Land." Aside from Ben Harper, who went missing for the grand finale, everyone who played earlier joined in, including Billy Bragg, Serj Tankian and Mason Jennings.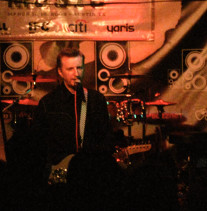 Every fantastic show is not without it's climax. And so this tribute concert ended with an entire see of people as waves of jumping bodies, all bellowing the final and potent refrain.
I didn't think the day could get any better, until I decided to catch Billy Bragg's solo show. Always a fan, but never a fanatic, I wasn't sure what to expect. And I certainly didn't expect to find a chatty and witty man looking much younger than his folk wisdom and baritone voice let on. With quips in between each song, my favorite segment started with a vote of which artist he would cover: Bob Dylan or the Carpenters. Ah, democracy.